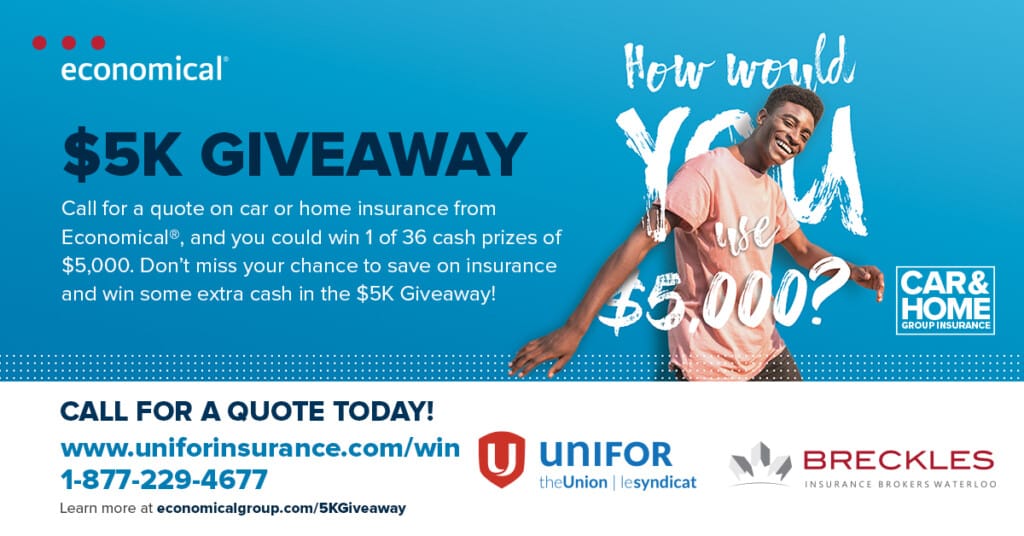 Members Helping Members!
There is no obligation to get a quote or purchase insurance to enter the contest. As you might already know, CLIS Inc., a division of Highcourt Breckles Group, employs members of Local 1106. We are endorsed by Unifor National to offer members group insurance rates and trusted advice for home and auto insurance. Let's tell your members about this great program and give them a chance to win $5,000.

Enter here: www.uniforinsurance.com/win
The $5,000 theme:
About the Unifor Group Home & Auto Insurance:
Book us for a 15 minute video call with your Executive Board for a refresher on this program.
Attached are some ads you can send to your members. An uplifting contest to help save money and a chance to win $5000.
Link digital ads to www.uniforinsurance.com/win
Members Benefits:
Free insurance review and loss prevention education.
Exclusive insurance offers and rates.
Speak to a non-commissioned broker (Unifor Local 1106 member) to explore insurance needs.
Expert and unbiased broker advice to help protect your members from insurance fine print.
Industry leading claims handling (24 hours, 7 days a week).
No fee monthly payment options.
Premium protection against claims and tickets (optional).
Insurance app and online policy documents.
Enter here: www.uniforinsurance.com/win