Day of Mourning
April 28 @ 7:00 pm

-

8:30 pm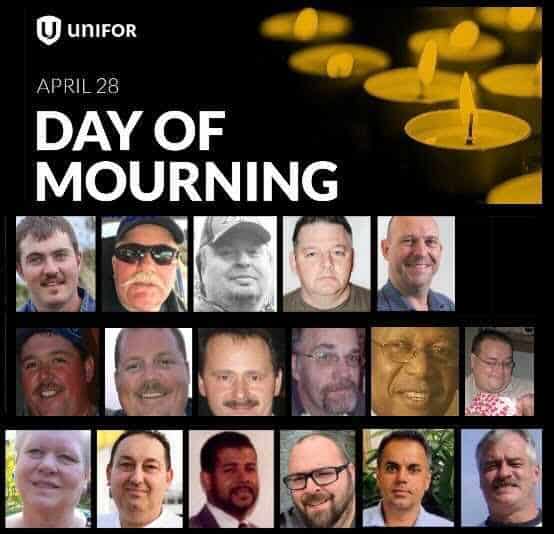 Day of Mourning – English Text
Unifor will be marking the Day of Mourning for workers killed on the job with an online ceremony to remember workers who have died in the past year.
Last year's Day of Mourning, April 28, came just as the COVID-19 pandemic was beginning, and few of us could imagine that we would still be in its grips a year later.
According to the Association of Workers' Compensation Boards of Canada, 925 workers died on the job or were killed by occupational disease in 2019, the last year for which statistics are available, and there were 271,806 lost time claims.
At Unifor over the past year, 17 members have died on the job, including five with COVID-19. Four members of FFAW-Unifor were killed in just one day.
"This has been an extremely difficult year, one we hope to never see repeated. It is important that we come together to remember, and to commit to prevent any more such needless deaths," Unifor National President Jerry Dias said.
Join with other Unifor staff and activists for the online commemoration on April 28:
When: April 28, 7pm ET
Where:

Click here to register

.
Who: Speakers will include Unifor National President Jerry Dias, Unifor Secretary-Treasurer Lana Payne, Western Regional Director Gavin McGarrigle, Ontario Regional Director Naureen Rizvi, Atlantic Regional Director Linda MacNeil, Assistant to the National President Joie Warnock, Director Health, Safety and Environment Sari Sairanen.
What: There will be a moment of silence for the lost members, including a video tribute to lost members, and a call to action.
Please mark this time and date in your calendars and register to attend in advance on Zoom.
Jour de deuil – Texte français
Unifor marquera le Jour de deuil pour les travailleuses et travailleurs décédés au travail par une cérémonie en ligne à la mémoire de celles et ceux décédés au cours de l'année écoulée.
Le Jour de deuil de l'année dernière, le 28 avril, a eu lieu au moment où la pandémie de COVID-19 débutait, et peu d'entre nous pouvaient imaginer que nous serions encore sous son emprise un an plus tard.
Selon l'Association des commissions des accidents du travail du Canada, 925 travailleuses et travailleurs sont morts au travail ou sont décédés en raison d'une maladie professionnelle en 2019, la dernière année pour laquelle des statistiques sont disponibles, et il y a eu 271 806 réclamations pour perte de temps.
Chez Unifor, au cours de la dernière année, 17 membres sont décédés au travail, dont cinq en raison de la COVID-19. Quatre membres du SPATA-Unifor sont décédés en une seule journée.
« Cette année a été extrêmement difficile, une année que nous espérons ne jamais voir se répéter. Il est important que nous nous réunissions pour nous souvenir et pour nous engager à empêcher d'autres décès aussi inutiles », a déclaré Jerry Dias, président national d'Unifor.
Joignez-vous aux représentant(e) et militant(e)s d'Unifor dans le cadre d'une commémoration en ligne le 28 avril:
Quand: 28 avril à 19 h HE
Qui: Parmi les intervenants figurent le président national d'Unifor, Jerry Dias, la secrétaire-trésorière d'Unifor, Lana Payne, le directeur régional de l'Ouest, Gavin McGarrigle, la directrice régionale de l'Ontario, Naureen Rizvi, la directrice régionale de l'Atlantique, Linda MacNeil, Adjoint au président national Joie Warnock et Directrice Santé, Sécurité et Environnement Sari Sairanen.
Quoi: Il y aura un moment de silence pour commémorer les membres décédés, y compris un hommage vidéo et un appel à l'action.
Veuillez noter cette date et cette heure dans vos calendriers et vous inscrire à l'avance sur Zoom.